MM House
Northcote 2020
EME's MM House is a generator of ideas, interest, and energy, and continues to exceed expectations in performance.
At first glance, MM House's striking forms and spaces are uncompromisingly distinct and contemporary. However, the more interesting story is that the genius of the design comes from the site's constraints, local context and a focus on multivalent sustainability.
The house comprises three volumes, each having a morphed gable form uniquely optimised to capture light, views and passive solar. Mediated by the constraints of the heritage overlay, the gable-inspired profile nevertheless respects the amenity and echoes the charm of its neighbouring heritage bungalows.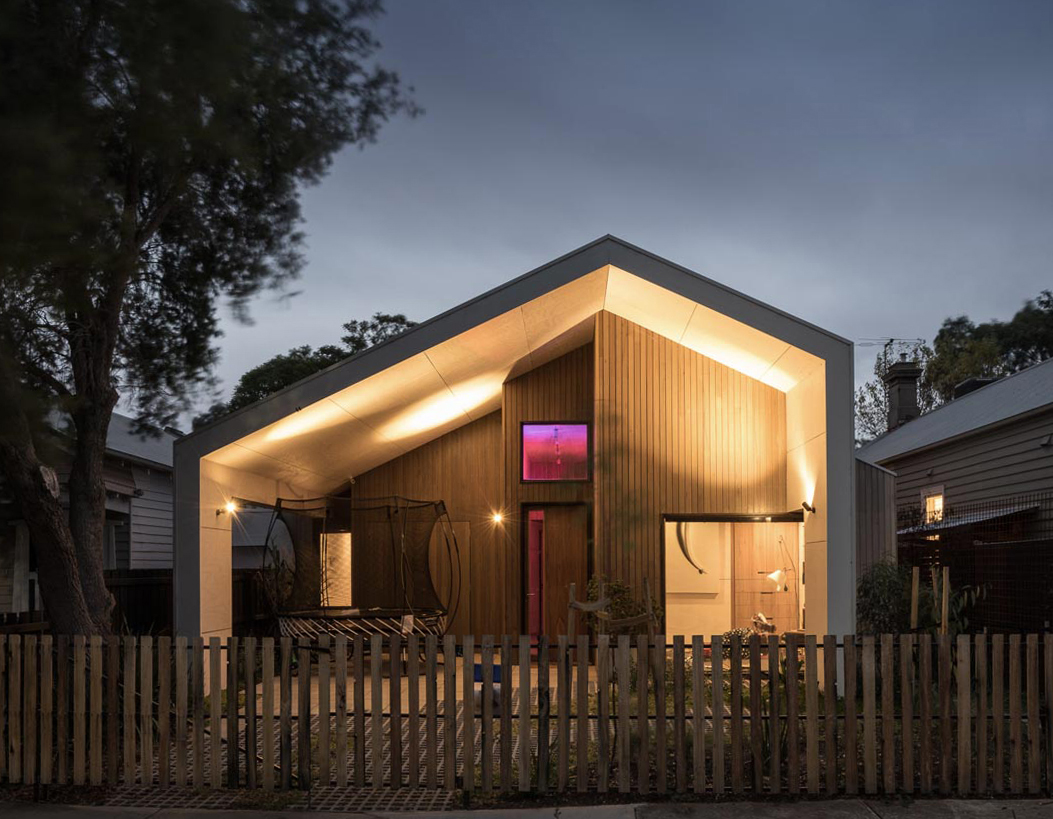 A multivalent approach to sustainability guided all aspects of this project. After careful analysis of the existing 1978 Besser Block home, it was evident that renovating the existing was not feasible at a number of levels, in particular building envelope, spatial planning, orientation. However, an important decision was taken to reuse all of the existing strip foundations and concrete slab. This saved massive amounts of embodied energy; it also dovetailed with keeping the build footprint compact, further energising the path to an efficient floor plan.
Daily rituals, seasonal solar patterns, view corridors are synthesised. Moving through the home, one is presented with a multitude of ever-changing moments, subtly choreographed, offering unexpected glimpses within and beyond – place for contemplation and connection to the world outside.
The strong architectural intent has been equally matched with commitment to creating an efficient home constructed of materials with low embodied energy. Despite the site constraints, the home is flooded with winter sun and achieves an 8 Star energy rating. In addition, the building envelope is within the realms of Passivhaus standards, including air tightness.
The MM House is made from rammed earth, lightweight construction, and timber cladding both internally and externally. It works to maximise the benefit of thermal mass within the structure and embraces cross-flow, heat stack ventilation.
It was designed to potentially become autonomous – rainwater, greywater, solar, food production have been factored into design of the home and landscape.
This carefully crafted single dwelling caters for changing family dynamics by creating two adjustable and adaptive zones, allowing for future transformation into autonomous living quarters; a home not just for now, but one to be grown into.
Luke Middleton built it for himself and his family and took ownership and control of both the design and construction. It was a challenging experience, with a great learning curve, in which multiple consultants, trade experts, and educational facilities were consulted. It was designed as a beautiful place to live and grow for the whole family.
The house also achieved 10 stars with the Victorian Residential Efficiency Scorecard.
It is currently an ongoing experiment – testing the air quality and temperature, energy output, rainwater collection, and adaptability for future use. 
On Sustainable House Day in 2018, around 300 people visited the new home in Northcote to learn about the passive-hybrid build. In 2019 we were delighted to welcome over 400 visitors.
PV system:  5kW    –  house is energy neutral with just 2.8kw of solar so with the 5kw system it runs energy positive.  Average Daily Energy Consumption:  12kw   All-Electric Home
MM House at Sustainable House Day 2021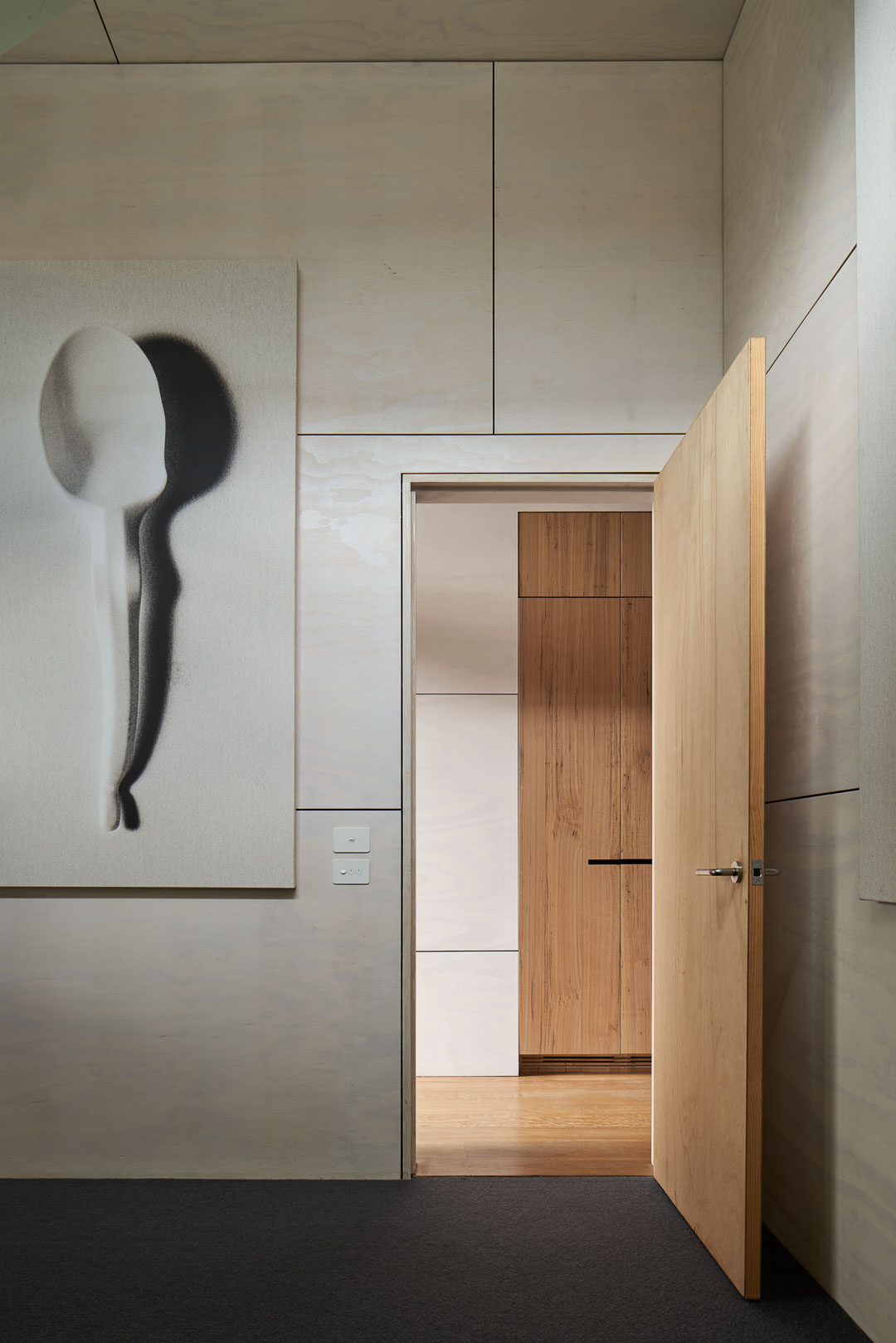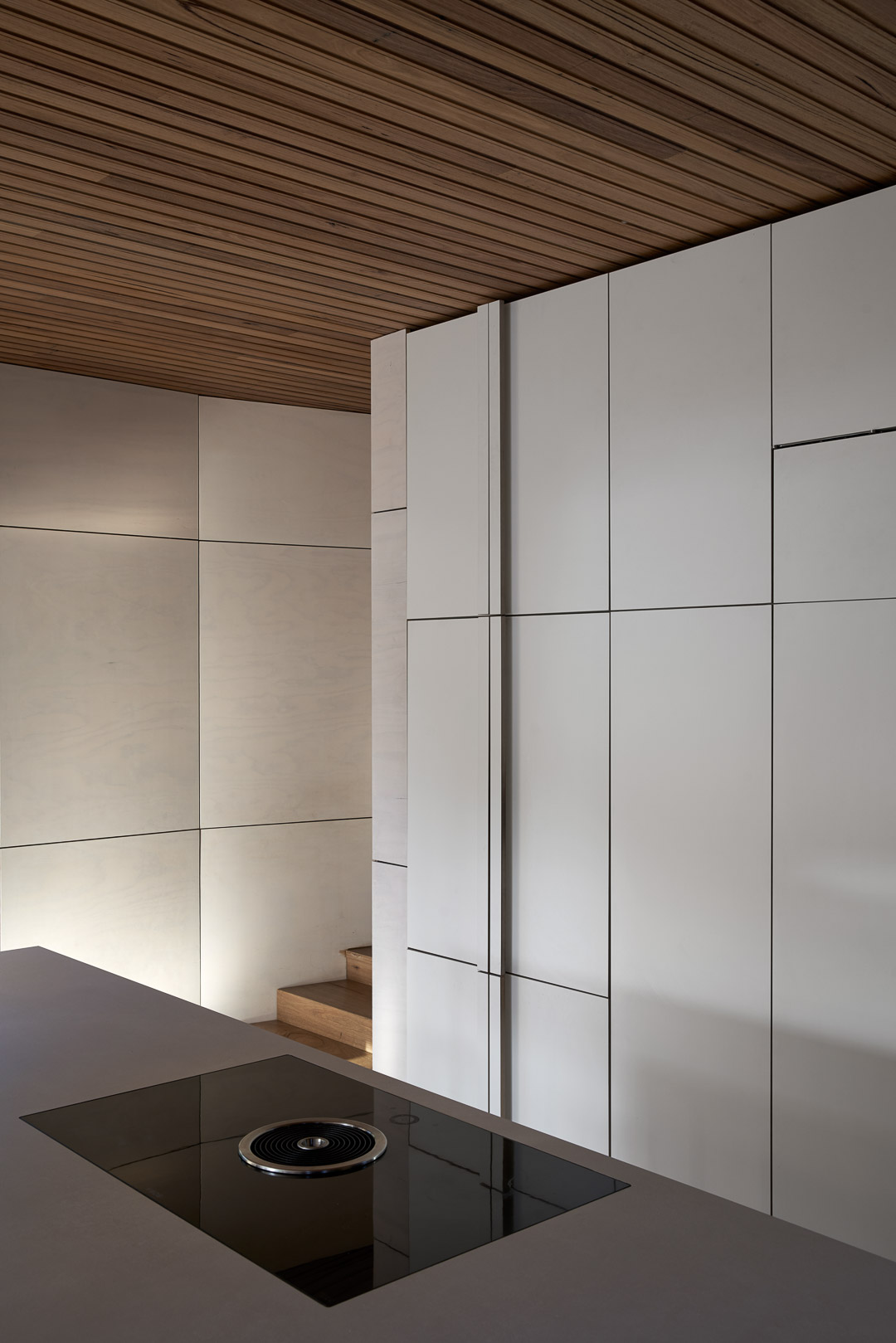 During winter, only minimal heating is required through a fireplace using locally sourced firewood. Throughout the ongoing summer, the house has performed quite well to lower the temperature passively through natural ventilation, a Heat Recovery Ventilation system, insulation, and thermal mass.
This extremely comfortable and efficient home is not connected to natural gas and with a medium size solar installation (5kW) the home runs carbon positive.  In fact it exports around 3500kW of electricity annually.   The garden is also currently being established, so more water is used than will be in the future, but it currently consumes 65L/person/day. There is also a provision for greywater to be used in the future, the plan is to implement this shortly.
Photography:  Peter Clarke & Luke Middleton
Recycled and reused materials including Existing concrete foundations for the entire home saving more than 35m3 of concrete
Sustainable materials:
Australian hardwoods – Blackbutt, wormy chestnut, yellow stringybark, recycled tallowood and red gum, radiata pine plywood, radiata pine framing, eco concrete
Recycled and reused materials: Aggregate, Appliances, Copper pipes/fittings, Concrete, Roofing material, Sleepers, Timber
Passive heating cooling: Cross ventilation, Deciduous planting around house, External planting, Heat recovery ventilation system, Passive solar designed home, Shading, Thermal chimney, Thermal mass
Active heating cooling: Ceiling fans, Heat exchange ventilation system, Heat pump
Rainwater storage – 11,000 litres
Grey water system
Stormwater management
Garden / Outdoors: Chickens, Composting, Drip irrigation, Edible garden, Local indigenous plants, Organic, Permaculture, Native plants, Water wise plants, Wicking beds, Worm farm
Healthy home features: Airtight house design, Automated ventilation system, Cross flow ventilation, Formaldehyde free cabinets, Heat recovery ventilation (HRV), Indoor plants for air filtration, Low VOC paints/sealer/varnish, Natural fibre furnishings, Natural light and ventilation, Natural oil sealer/finishes, VOC free paints/sealer/varnish
Universal design accessibility, Adaptive design, Multi-generational, 80cm minimum door opening width, Hobless showers, Lever handles for doors (no knobs), Shower head on rail for various heights
Space around toilets for ease of access in wheelchairs, Tapware to be easily accessed from outside the shower.
Further information of MM House in Your Home