The Cathedralette
BRUNSWICK 2013
The Cathedralette House is a beautiful little exemplar of what is possible on a narrow site and a tight budget. The elegantly sweeping roof form is inspired by a heritage timber chapel nearby, sculpting a light filled north facing living room, whose generous proportions and cathedral ceiling belie the site's space constraints. The client wanted to preserve her already petite garden so clever planning and a mezzanine tucked into the roof space create a more efficient, comfortable space to live in with no wasted corners without the need to extend the footprint.
Awards
Residential Design – New Houses: Up to $300K Construction Cost – BDAV 2016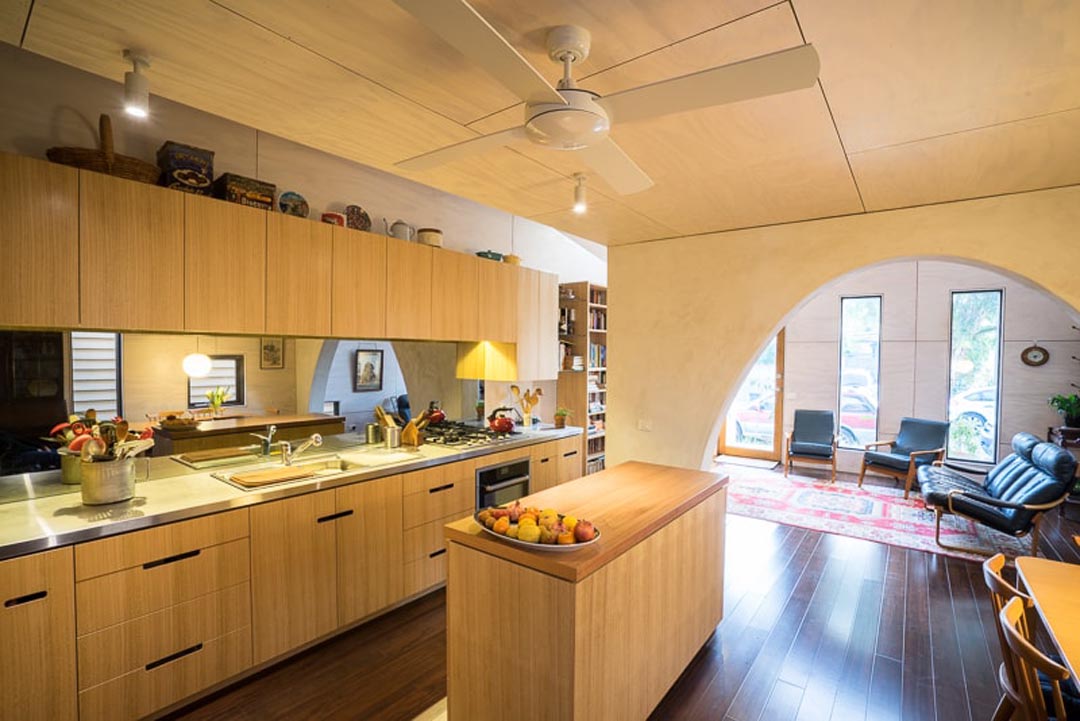 Sustainable materials are used throughout from the radial cut timber weatherboards to the internal plywood clad walls. Plasterboard has no place in this eco design. Steel is minimised in the structure in favour of more renewable timber. Moveable furniture such as the island bench allow flexibility for entertaining. There is zero western glazing to protect from the harsh summer sun and glazing is maximised to the north with a feature trapezoidal window that will be adorned with re-purposed coloured glass that the client had lying around. On a chilly winters day when the light shines deep through this window, reflecting off the sweeping angled ceiling it will truly be a divine experience.
"When respect for local culture, history, architectural styles and for an environmentally sustainable way of life are also shared, then the path to a successful and satisfying working relationship becomes both clearer and smoother. This has been my experience of working with the EME team." 
– Linda Day, Client