The months are speeding by this year – it's mid-Autumn already!! It is a wonderful time of year in Melbourne with crisp mornings and lovely sunny days. The leaves are turning beautiful shades of red, yellow and orange and the summer crops are ready for their final harvest. Here's some of the ways we've been preparing for the cooler months to come.
The Weather
There have been some pretty big fluctuations in temperature lately. Waking up to a 5 degree morning and seeing it heat up to 24 in a matter of hours… To only drop again once the sun goes down. Not in our Passive House! The combination of air tightness, insulation, double gazing, minimal thermal bridges, and energy efficient heat recovery system means our house stays at a comfortable 22 degrees, 24 hours a day! Just how we like it. Our neighbours have been complaining about the windy weather we had a few nights ago. But we didn't notice anything in our comfortable air tight home. We can monitor the indoor and outdoor temperatures, indoor air quality (VOC's and carbon ppm) and humidity. This has shown us just how important passive design, good detailing and construction quality really is.
While these changes may not be felt (uncomfortably) indoors by the occupants, there is still an active engagement with the seasons and changes take place. Carefully framed views in EME's MM House create passageways of vistas and escapes to the natural world. Through these view corridors, the transitions in the natural landscape and the stunning autumn colours can be observed.
The Garden
The last of the tomatoes, basil and eggplant etc. have been harvested and we've started turning our veggie patches in preparation for the next season's growth. This autumn in our domestic permaculture garden we are planting the following:
Broccoli
Garlic
Kale
Carrot
Asian greens
Cauliflowers
Leek
Parsnip
Beetroot
Snow peas
Broad beans
Spinach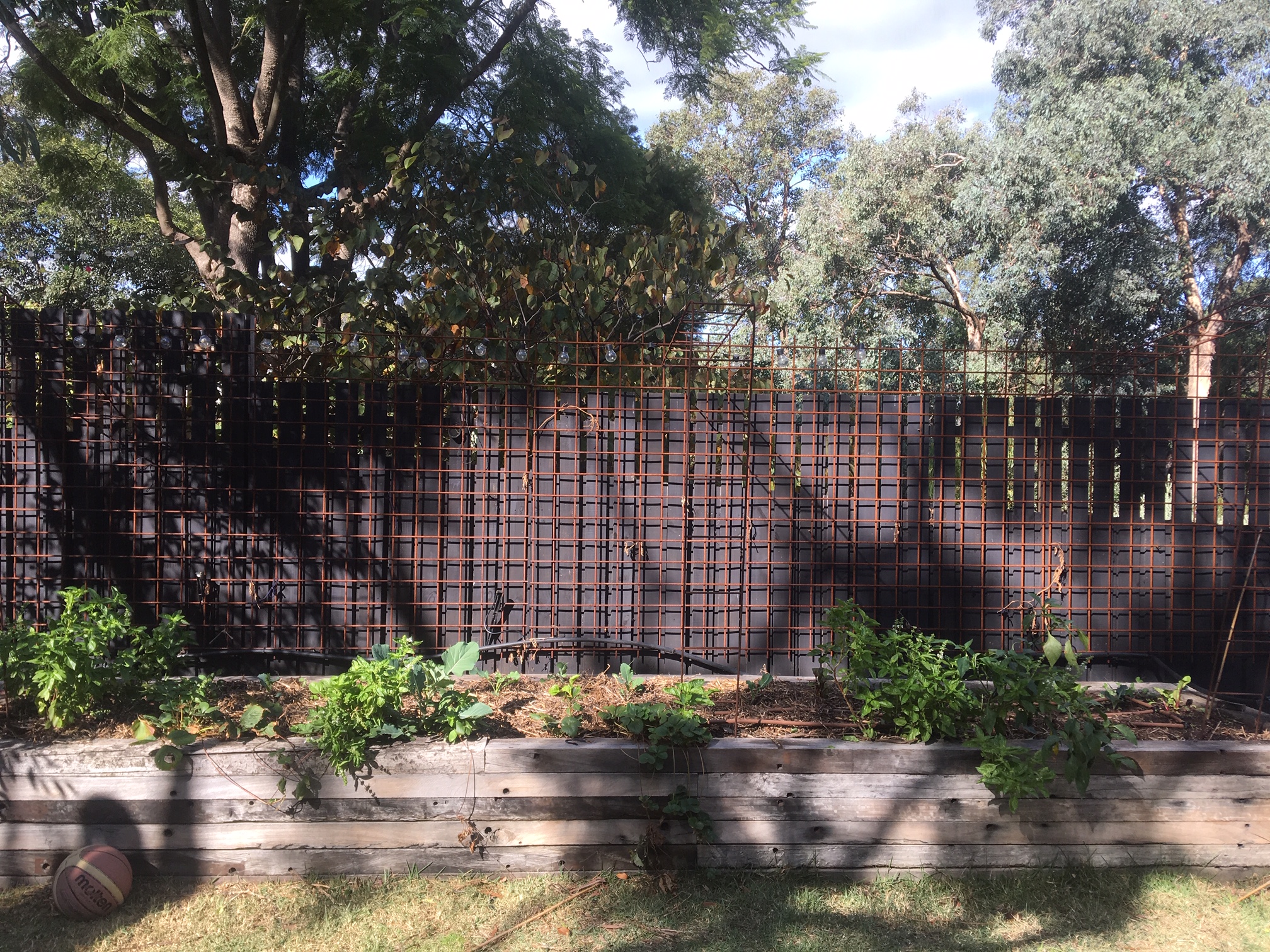 Our worm farm will be eating our compost and generating some nourishing worm juice in the background, too! The more we work on the garden, the more we learn and the more proficient we are in urban agriculture and permaculture practices. This has lead us to consider how the garden can become more productive and to plan for the future.
We have a central grass patch to the west of the house which is currently a play area for the kids. But when they get older and don't feel as strong a desire to roll around in the grass, this little gem of a spot will become an orchard with veggies growing beneath. Our productive garden will double in size from approximately 25m² to 50m²!
The roof on our shed will be turned into a productive roof food garden, easily accessible from our little patch of lawn/future orchard. Not only will this green roof provide additional garden space, but to will also be great insulation for the bungalow space below.
We hope you're all enjoying the beauty of autumn as much as we are, and if you haven't started planting your autumn and winter veg, you'd better get on it quick so you don't miss out!