Woodleigh AG Hort
Baxter 2006
Taking the opportunity to educate as a starting point, this student driven project encompassed the myriad of possibilities available to sustainable design and presented them as a cohesive statement. Straw bale walls with rustic reclaimed ironbark poles nestling into the southern aspect juxtapose against the linear rhythms of the timber on the northern façade. The result is an open textbook of ESD.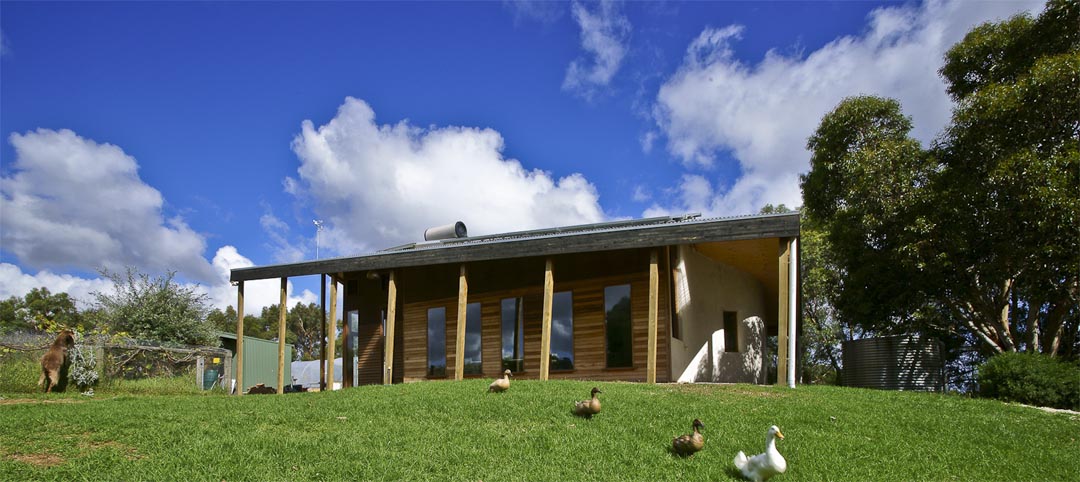 Publications
Critical & Creative Thinking – Dominique Hes
Future Proofing Schools – Dominique Hes
Sustainability for Learning Environments – Dominique Hes
Learning Spaces – Aubea 2010 – Dominique Hes
Awards
Best Environmentally Sustainable Design – Non-Residential – BDAV 2008
Client Brief
Sustainable building that presented a multi valent response to ESD with the opportunity for student participation in construction.
Materials
Eco Panel ceiling panels – Straw panels in 12 metre modules that provide easy installation, excellent thermal insulation and low embodied energy.
Recycled Timber – Locally sourced hardwood posts and beams recovered from piers at Docklands.
Strawbale Construction – Sculptural qualities of strawbale were explored by students and in some areas they embed art and permanent messages into the 3.2m wall.
Concrete Slab – Concrete that absorbs C02 from the atmosphere and incorporates waste material that reduces the amount of new resources required.
Radial cut timber cladding – locally sourced Australian timbers that were radially cut to reduce waste.
Eco ply – The internal cladding is eco ply. This has much lower embodied energy than plasterboard and greater serviceability.