River House
Mildura   2005
The aim was to reduce the energy consumption with 50% over a similar home in a comparable area and exceeded this. This was achieved, and an even higher ambition of 64% reduction, by overlaying the responses to our resource mapping. These included mapping the sun's path, the sight lines, the subterranean temperature, materials and other potentials. The intended gains from every single system were improved upon when it operated in conjunction with another system. Data logging revealed that the building exceeded the simulated model's predicted performance. The interaction between the passive and active systems offers greater gains through the complexity with which each system operates. By responding, finding windows of opportunity and ultimately producing an organic system that works reciprocally within other systems to produce an elastic loop, these gains were reached.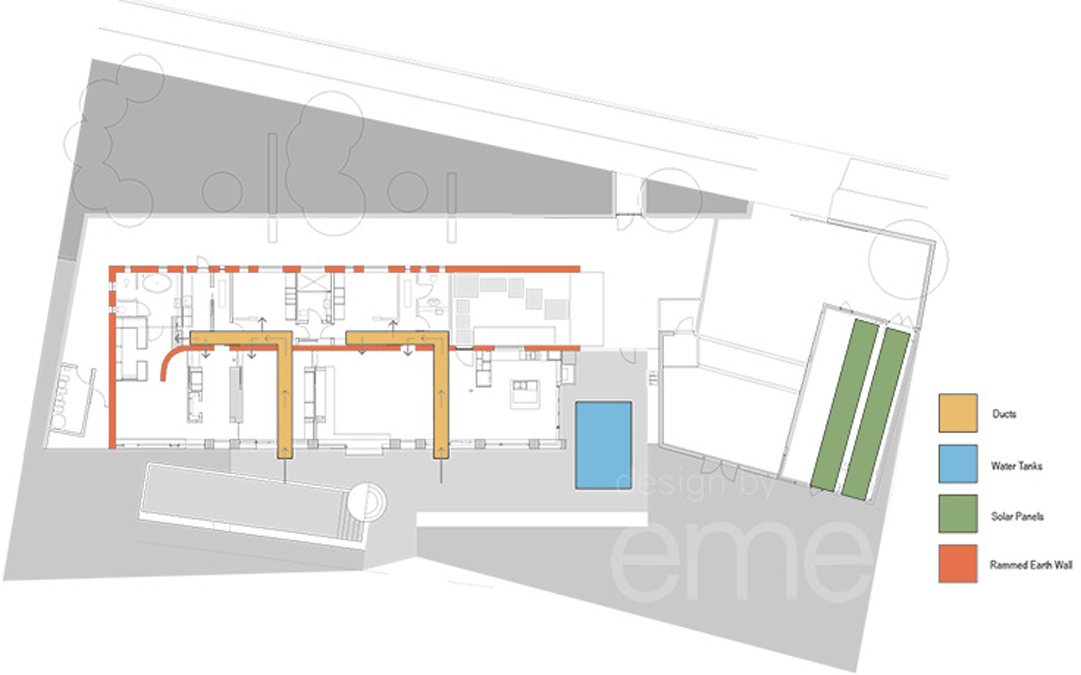 Sustainable Function in a Luxury Home
This project addresses the challenge of achieving sustainable function in a 'luxury' home. This is a timely opportunity as more people aspire to the costly environmental qualities of size and grandeur. This project is a symbiosis of sustainable design with a luxurious living, underpinned by embedded environmental design components including: in ground Labyrinth cooling with night heat purging, insulated and non insulated rammed earth walls and low e double glazing with strategic window positioning.
River House – Green Magazine 2009
Volkswagen Magazine – Green Houses 2011
River House Performance – Predicted versus Real Data